I will undertake most types of painting and decorating. I specialise in period buildings but also work on modern buildings and new-builds.
Exteriors - I can make good and paint just your front door, or an entire 4-storey townhouse from top to bottom! For exteriors, I am usually booked two years in advance.
Interiors - freshen up the surfaces and paint finish in just one room - or all the wallpaper and paint stripping in your whole house - I can do it. For interiors, I am usually booked several months in advance.
Wallpaper is coming back into fashion - albeit often just a feature wall. To get it hung right, including cutting it around mouldings - get an expert in!
Commercial - I take on very little commercial work now, as I'm booked up so far in advance. But I can be available for the right kind of job, if planned in well.
I am happy to advise on the best paints and other materials, and on colour - the final choice though, is yours of course!
I am happy to quote to paint wooden furniture. Even stained, chipped and waxed furniture can be painted in either a soft eggshell or a fashionable, vintage, waxed and distressed chalk paint look
I take a pride in my work. If you do a really good job, it'll last longer and it'll be easier to decorate next time!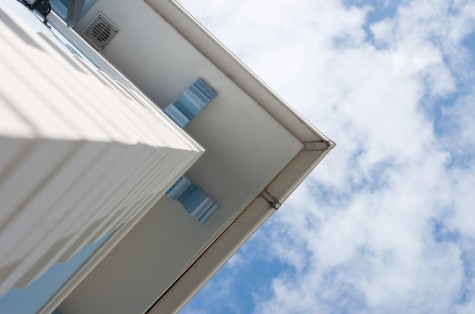 It was a pleasure picking out these mouldings in Duck Egg Blue!
I am a trained contractor in Repair Care resin repairs for timber. This means I can repair exterior windows and doors with the most durable repair methods in the UK.